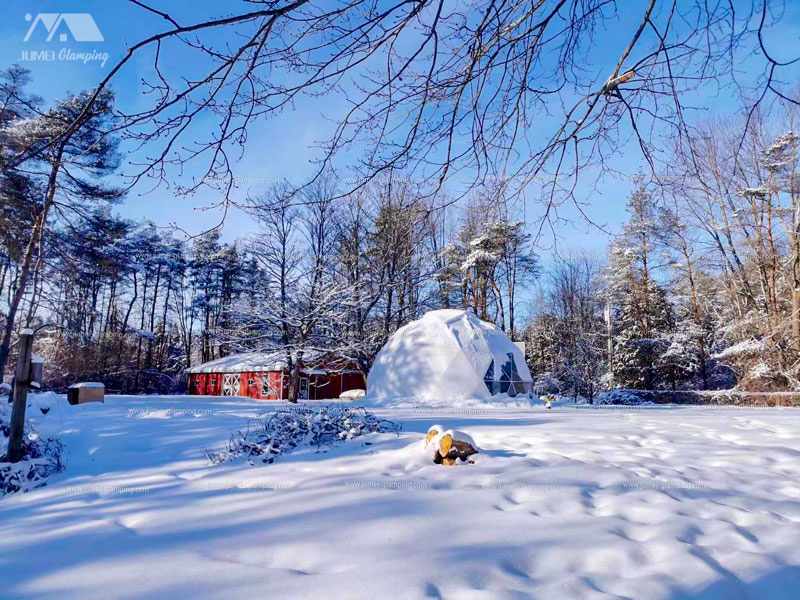 Amazing glamping dome in the extremely cold snow in Canada
03/23/2022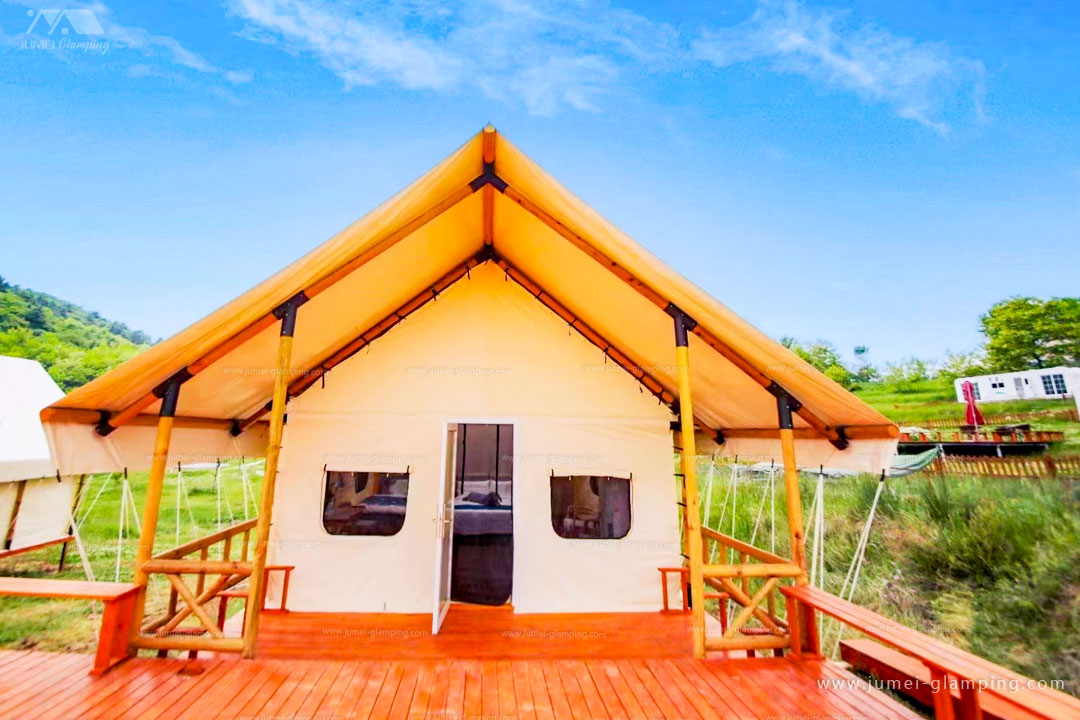 Amazing Glamping Domes, Safari Tents in a Glamping Resort
07/04/2022
3m and 4m Domes for the backyard greenhouse, sunroom, and transparent garden igloo
The 3m, 4m domes can usually only place a table, a few chairs, or some potted flowers and trees. Many customers like to choose to buy a clear 3m or 4m dome and put it in the garden or backyard as a rest area, a small greenhouse, or grow house. There are sunny days in spring. On sunny days, you can take a sunbathe; drink beer and stargaze on summer evenings; read books, and enjoy tea on autumn afternoons.
Some people also like to make a transparent greenhouse to cultivate and grow some flowers and plants. During the cold season, especially on sunny days, the inside of the greenhouse becomes warmer, which helps the growth of plants.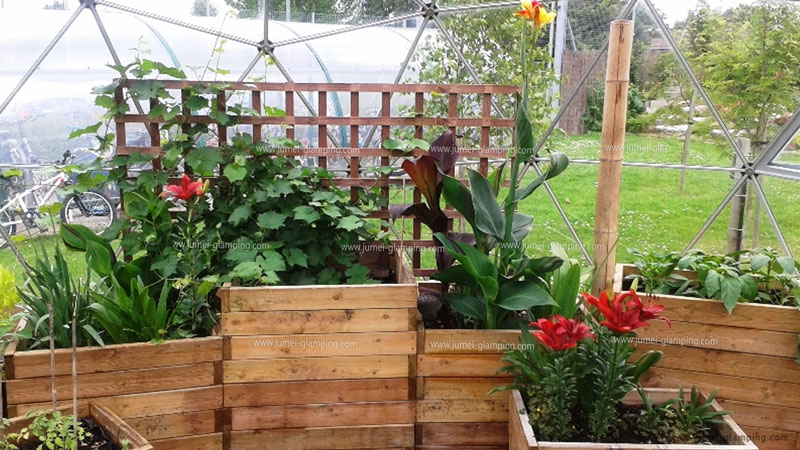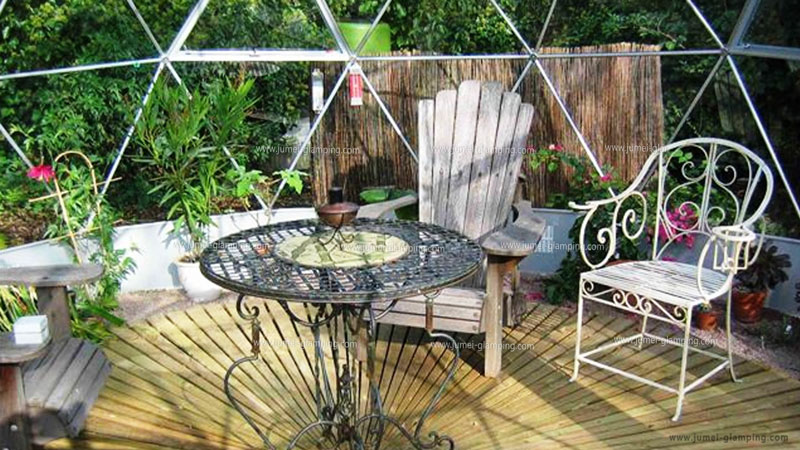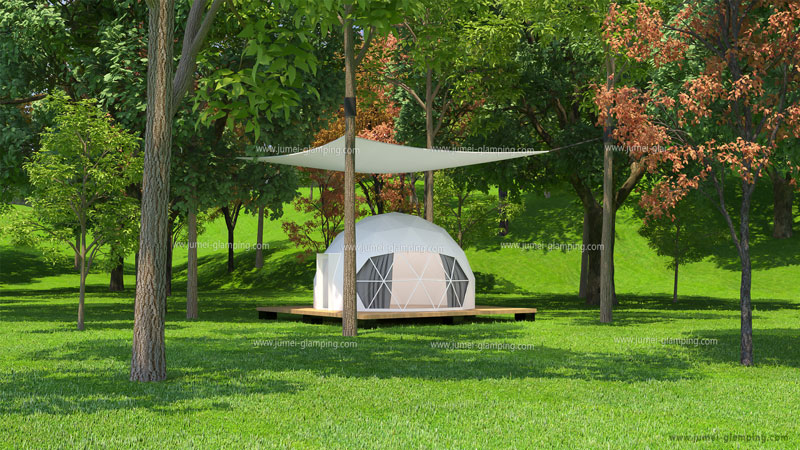 4m (5m) outdoor chic restaurant or simple guest room
For the dome of 4m and 5m, many active-minded customers have designed it into a fashionable restaurant. The space of 11M² and 19M² is large enough for a table of guests, which can place a round dining table and eight chairs. You can choose all the transparent or partially transparent (panoramic window) cover with curtains, which can protect privacy. You can also install it in your backyard or on your land to enjoy a tea party or dinner with your guests.
5m+3m customized glamping dome suite for resort, Airbnb with bathroom
As mentioned above, it is hard to build an independent bathroom in a dome below 6m. Therefore, Jumei and our client have cleverly designed a 5m+3m (or 5m+4m) conjoined dome, a 5m dome as the living room and bedroom, the 3m (or 4m) dome is designed as a bathroom. They are connected to form a complete luxury dome suite, and even you can put a bathtub in it, which is very chic and practical.
5m+5m customized luxury glamping dome suite for resort, Airbnb with bathroom and living room
If you feel that the space of 5m+3m (or 4m) is not spacious enough, or you want more luxury, you can also connect two 5m domes to form an ultra-luxury family suite, which can include a living room area, bathroom, double bedroom, and small bedroom.
Popular 6m glamping dome suite with bathroom
6m glamping dome is one of the most popular sizes these years. It can be designed and customized in various ways. As a glamping site owner or Airbnb host, both cost and comfort need to be taken care of, so a 6m dome has become the most choice in the glamping industry in recent years. The most common way is to design a 6m glamping dome into a standard double bed suite. You can conveniently build a comfortable bathroom including sink, toilet and shower, king-sized bed, stove, TV and air conditioner, and other necessary furniture and appliances, suitable for single and couple staying.
7m glamping dome for a more comfortable and flexible customized luxury suite
Many self-use customers or glamping site owners prefer more luxurious configurations. They tend to choose 7m domes because the larger space (10m2 more than 6m dome) can be more flexible to implement the different interior designs. And it can be more convenient to add a dining table, kitchenette, or other luxury living items. Please refer to our brilliant Thailand customer's stunning 7m domes.
8m ultra-luxury studio suite with loft for a resort hotel and Airbnb
You can design an 8m dome as an ultra-luxurious studio suite or dome house with a work area, a comfortable and spacious bedroom, a bathtub. You can have a quiet, undisturbed studio where you can enjoy a relaxing bathtub after your hard work.
Because the ceiling height of 8m dome is 4.0-4.7 meters, in addition to the luxurious suite where you can place the dining table and bathroom, you can even build a loft in the dome center, put a small bed on it, and turn it into a luxurious family suite.
You can also design an 8m dome as a spacious business reception area, where you can place enough seats and even two restrooms for crowded guests.
10m ultra-luxury glamping dome suite with 2 bedrooms
For the 10m dome, the indoor area has reached 110m2, which has reached the size of the event dome. With such a magnificent space, you can freely design according to your ideas. For example, You can build it into a super deluxe double bed two-bedroom suite.