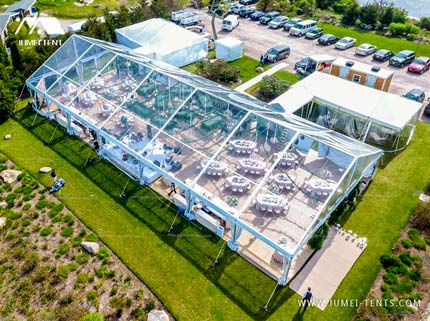 Beautiful and fantastic wedding tent for you
Wedding tents give you the best of both worlds: they offer the beauty of outdoor weddings, as well as shelter in case of strong sunlight or the occasional rainfall.
Jumei provide wedding tents of various sizes, with spans width ranging from 3m to 30m, and the height and length can be customized according to your needs. There are two bay distances (the unit length) for our wedding tents: 3m and 5m. You can combine any number of length units as needed to build a wedding tent of the length you want.
Our wedding tents are classified into two categories according to their size: Large wedding tents and Small wedding tents(including the mini wedding tents).
Large wedding tents: Span width is from 8m to 30m, bay distance is 5m.
Small wedding tents: Span width is from 3m to 12m, bay distance is 3m.
You can check the specific dimensions and parameters of our wedding tent below.
Our wedding tents can be set up in various groundings like concrete, lawns, beaches, and soil earth. Because it is clearspan, the flexibility of the interior setting and decoration is also greater. The top color of the tent can be white, clear, or custom color and graphics as your needs.
Big Wedding Tent
JET Series
Span Width
Eave Height
Ridge Height
Bay Distance
Main Profile
8m
3.3m
4.53m
5m
Aluminium Alloy
T6-6061
204x120x4mm
10m
3.3m
4.85m
5m
12m
3.3m
5.16m
5m
15m
3.3m
5.62m
5m
16m
3.3m
5.72m
5m
18m
3.3m
6.01m
5m
Small Wedding/Party/Event Tent
JNPT Series

Span Width

Eave Height

Ridge Height

Bay Distance

Main Profile

3m

2.6m

3.16m

3m

Aluminium Alloy




T6-6061




120x48x3mm

4m

2.6m

3.35m

3m

5m

2.6m

3.52m

3m

6m

2.6m

3.71m

3m

8m

2.6m

4.24m

3m

9m

2.6m

4.24m

3m

10m

2.6m

4.4m

3m

12m

2.6m

4.76m

3m
Mini Wedding/Party/Event Tent
JMPT Series
Span Width
Eave Height
Ridge Height
Bay Distance
Main Profile
3m
2.6m
3.2m
3m
Aluminium Alloy
T6-6061
84x48x3mm
4m
2.6m
3.4m
3m
5m
2.6m
3.6m
3m
6m
2.6m
3.8m
3m
8m
2.6m
4.2m
3m
10m
2.6m
4.5m
3m
Mini Curved Roof Wedding/Party/Event Tent
JDMPT Series

Span Width

Eave Height

Ridge Height

Bay Distance

Main Profile

3m

2.6m

3.0m

3m

Aluminium Alloy




T6-6061




84x48x3mm

4m

2.6m

3.2m

3m

5m

2.6m

3.4m

3m

6m

2.6m

3.6m

3m

8m

2.6m

4.0m

3m

10m

2.6m

4.5m

3m
Model/Series
Span Width
Eave Height
Ridge Height
Winload
Main Profile




JPAG

3m
2.5m
4.3m
80km/h
Aluminium Alloy
T6-6061
63x63x2mm
122x68x3mm
4m
2.5m
4.8m
80km/h
5m
2.5m
5.43m
80km/h
6m
2.5m
5.92m
80km/h
8m
2.5m
5.36m
100km/h
10m
2.5m
6.38m
100km/h




JMPAG

2m
2.3m
3.65m
80km/h
Aluminium Alloy
T6-6061
63x63x2mm
2.5m
2.3m
3.93m
80km/h
3m
2.3m
4.12m
80km/h