---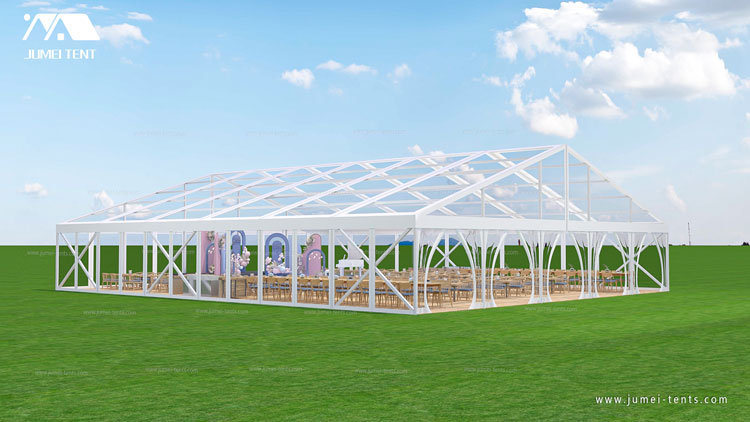 Just for a beautiful and fantastic wedding
Wedding tents give you the best of both worlds: they offer the beauty of outdoor weddings, as well as shelter in case of strong sunlight or the occasional rainfall. They can be erected at all sorts of wedding venues, from backyards to beaches, and create a unique backdrop for your big day. It's no wonder tented wedding receptions are one of the most popular celebration spaces for couples.
One of the most beloved aspects of wedding tents is that they're often totally customizable, unlike the interior decor of a ballroom or landscaping of a garden. You can make it what you want. A tent provides a blank canvas for flowers, lighting, table arrangements, and monogrammed dance floors. Plus, who doesn't want to dance under the stars as you boogie into the night?
Though the options are practically endless for your decor, there are specific types of tents available to you, each toting a long list of logistics. And unless you're hosting your reception in a venue you own, such as your parents' property, the first order of business is to confirm that wedding reception tents are allowed. There may be strict specifications and permits for the tent that you'll want to know before getting setting your heart on a specific style. Based on your location, you may also need to add important necessities, including a generator, air conditioning, heat lamps, and possibly even building a catering kitchen to serve your guests dinner. Providing bathrooms and flooring fall into this category too, so be sure you have room in your budget to accommodate these needs.
If this all sounds like a go and you're ready to pitch the biggest party of your life, here is a primer on wedding tent styles to consider when designing the look and feel of your wedding.
Our many kinds of tents can be used for wedding for different usages including clear span tents( event tents, party tents, mini party tents ), pagoda tents, high peak mixed tents, geodesic dome tent, arcum tent and so on. And you can also check our projects and solutions of wedding tents for more stylish choice.
Big Wedding Tent
JET Series
Span Width
Eave Height
Ridge Height
Bay Distance
Main Profile
8m
3.3m
4.53m
5m
Aluminium Alloy
T6-6061
112x203x4mm
10m
3.3m
4.85m
5m
12m
3.3m
5.16m
5m
15m
3.3m
5.62m
5m
16m
3.3m
5.72m
5m
18m
3.3m
6.01m
5m
Small Wedding/Party/Event Tent
JNPT Series

Span Width

Eave Height

Ridge Height

Bay Distance

Main Profile

3m

2.6m

3.16m

3m

Aluminium Alloy




T6-6061




120x48x3mm

4m

2.6m

3.35m

3m

5m

2.6m

3.52m

3m

6m

2.6m

3.71m

3m

8m

2.6m

4.24m

3m

9m

2.6m

4.24m

3m

10m

2.6m

4.4m

3m

12m

2.6m

4.76m

3m
Mini Wedding/Party/Event Tent
JMPT Series
Span Width
Eave Height
Ridge Height
Bay Distance
Main Profile
3m
2.6m
3.2m
3m
Aluminium Alloy
T6-6061
84x48x3mm
4m
2.6m
3.4m
3m
5m
2.6m
3.6m
3m
6m
2.6m
3.8m
3m
8m
2.6m
4.2m
3m
10m
2.6m
4.5m
3m
Mini Curved Roof Wedding/Party/Event Tent
JDMPT Series

Span Width

Eave Height

Ridge Height

Bay Distance

Main Profile

3m

2.6m

3.0m

3m

Aluminium Alloy




T6-6061




84x48x3mm

4m

2.6m

3.2m

3m

5m

2.6m

3.4m

3m

6m

2.6m

3.6m

3m

8m

2.6m

4.0m

3m

10m

2.6m

4.5m

3m
Model/Series
Span Width
Eave Height
Ridge Height
Winload
Main Profile




JPAG

3m
2.5m
4.3m
80km/h
Aluminium Alloy
T6-6061
63x63x2mm
122x68x3mm
4m
2.5m
4.8m
80km/h
5m
2.5m
5.43m
80km/h
6m
2.5m
5.92m
80km/h
8m
2.5m
5.36m
100km/h
10m
2.5m
6.38m
100km/h




JMPAG

2m
2.3m
3.65m
80km/h
Aluminium Alloy
T6-6061
63x63x2mm
2.5m
2.3m
3.93m
80km/h
3m
2.3m
4.12m
80km/h
Tent Type

Appearance

Price

Usage

Size

Shape

A-Shape Tent(A-Frame Tent)


Most conventional type of clear span wedding tent

Not expensive

Wedding reception, ceremony, party

Limitless Length, span width from 5m to 60m

A-shape top

Arcum Tent



Modern curved roof design offers a unique, high-end, contemporary, and eye-catching look.

Expensive than a-shape tent

Wedding reception, ceremony, party

Limitless Length, span width from 5m to 60m

A-shape framework with curved roof

High Peak Mixed Tent

Unique, flexible, and eye-catching design makes it looks contemporary, luxurious, and elegant.

Not expensive

Wedding reception, ceremony, party

Limitless Length, span width from 5m to 60m

A-shape tent mixed with high peak pagoda tent

Multi-sided Tent


With high peak or diamond shape roof. It has a graceful, elegant and

luxurious

look.

Expensive

Wedding ceremony, reception

We, Jumei tent, provide 4, 6, 8, 10, 12, 14, 16 sides and diameter from 6m to 40m.

Polygon shape with high peak top

Pagoda Tent

Square sizes , It is highly flexible for layout and design as they can be seamlessly interconnected to other units and creating larger sizes and the option of multiple configurations.

Not expensive

Wedding reception, ceremony(connection with other types of tents)

Span with from 3m to 20m

Square shape with high peak top