A-shape tent (also known as A Frame tent) is our standard and most popular design. And A-shape tent are the most conventional type of tent as per the client demand quota.
These A-shape tents are using strong aluminium alloy frame and easy to set up and dismantle as well as convenient to stock and transport. All our tents are well manufactured by our qualified manufacturing department.
A-shape tent is the perfect solution for a big crowd event such as weddings, parties, corporate events, fashion shows, summer balls and many other events that require less obstruction. Its well-designed structure makes sure that there aren't many poles on the interior but rather on the exterior of the tent.
The span width of our A-shape tents varies from 3m to 60m( 5M, 10M, 15M , 20M ,25M 30M, 35M, 40M, 45M, 50M, 60M) and the length has no limitation. Length can be any times of 3m, 5m modular. There is no pole inside the tent, which enable you make maximum use of the space inside. Most popular size are 6x12m, 9x15m, 10x20m, 12x30m, 15x40m, 20x30m, 20x50m, 25x60m, 30x60m, 30x100m, 40x100m, 50x100m etc. It is widely used as wedding tent, party tent, marquee tent, exhibits tent, event tent. It is easy to set up and take down.
Features & Specifications
Frame material

Hard pressed aluminum alloy T6061/T6

Fabric cover

double PVC-coated polyester textile; 100% waterproof;UV resistant, tear-resistant, self-cleaning ability, etc.

Roof cover

850g/sqm white PVC Fabric

Sidewall cover

650g/sqm white PVC Fabric

Fabric color option

White, yellow, transparent and customized

Connector

Strong hot-dip galvanized steel.

Allowed temperature condition

-30 degree Celsius +70 degree Celsius

Wind load

80-100km/h

Snow load

75kg/sqm (snow can't stay if use big degree roof pitch design)

Other features

Easy to assemble and disassemble

No pole inside, 100% available interior space
PVC window sidewalls
Anchoring
Rain Gutter
Lining and curtain
Glass door units
Hard walling system
Glass walling system
Transparent PVC cover and sidewall
Flooring system
Weight plate
More accessories are available, please feel free to contact us if you need more information.
| | | | | |
| --- | --- | --- | --- | --- |
| Tent Size(m) | Side Height(m) | Frame Size(m) | Floor Area(㎡) | Capacity |
| 10x20 | 3 | 120x48x3 | 200 | 150-200 People |
| 15x20 | 3 | 166x88x3 | 300 | 250-300 People |
| 15x30 | 4 | 166x88x3 | 450 | 380-450 People |
| 20x30 | 4 | 112x203x4 | 600 | 500-600 People |
| 30x50 | 4 | 112x203x4 | 1500 | 1200-1500 People |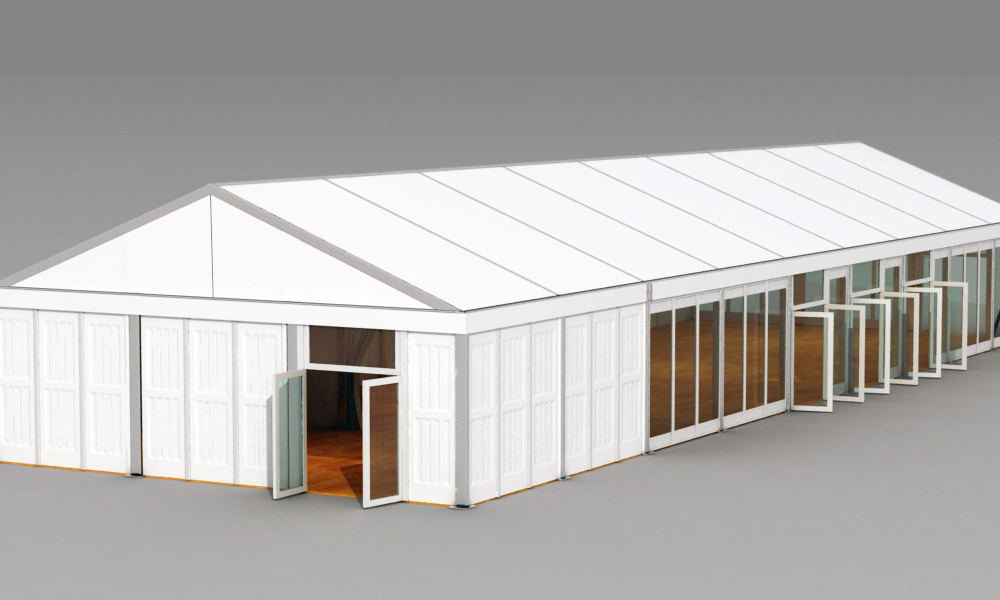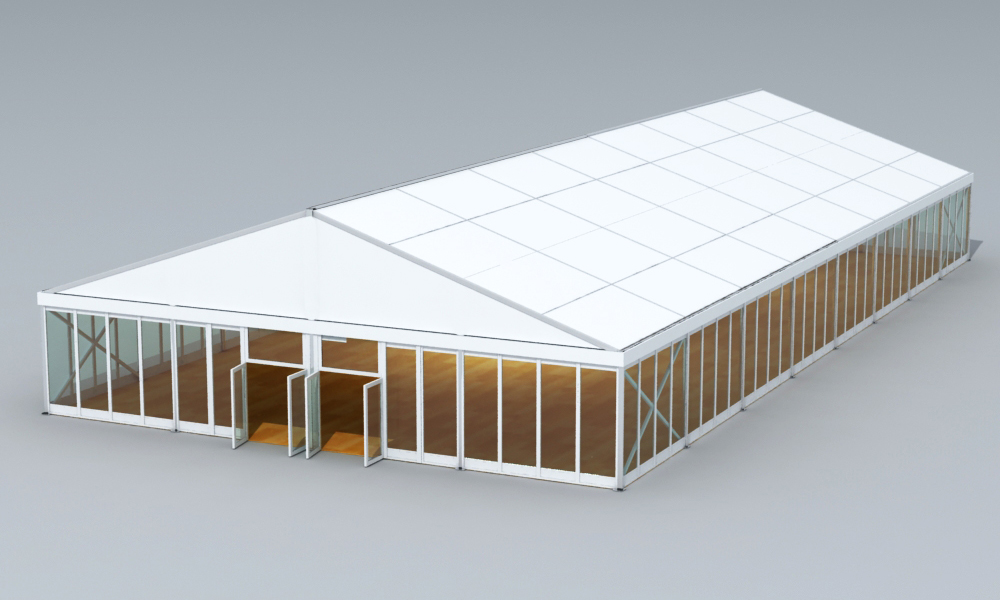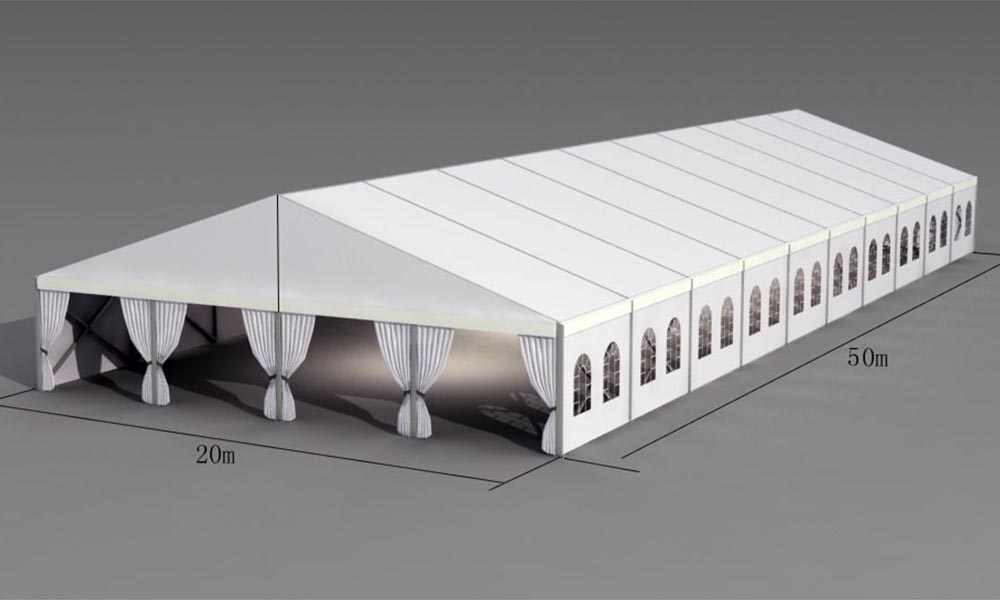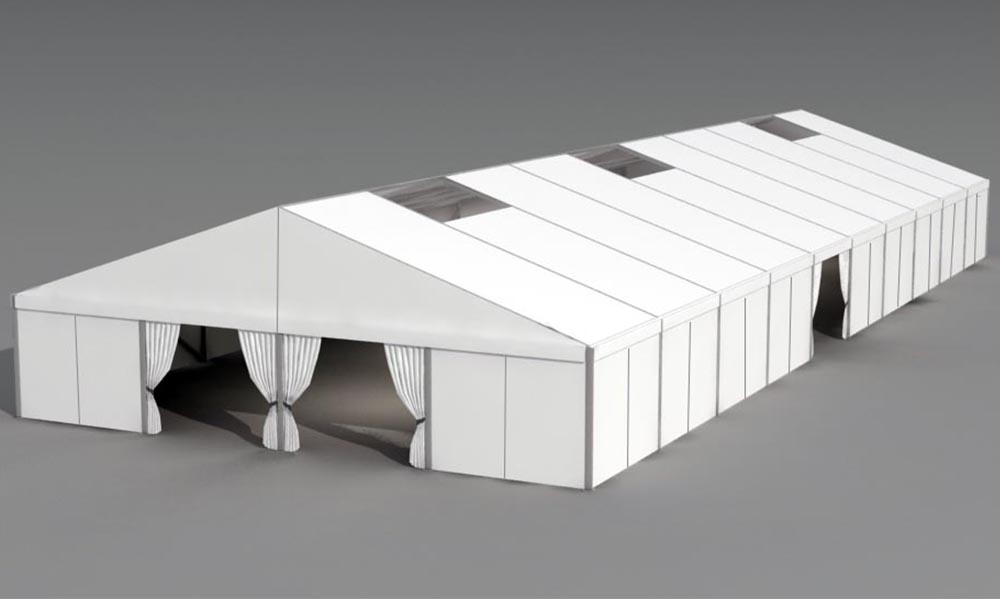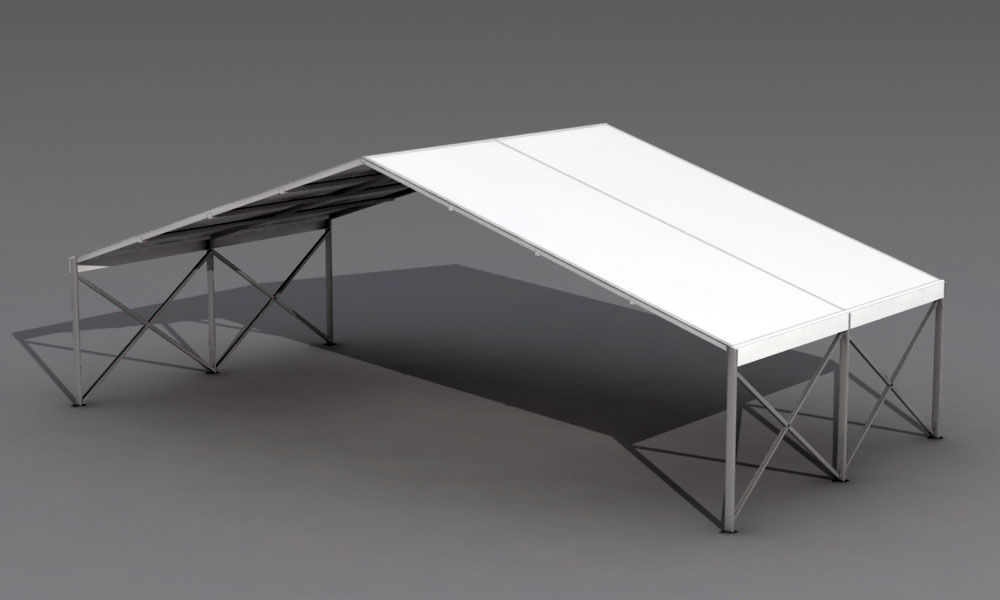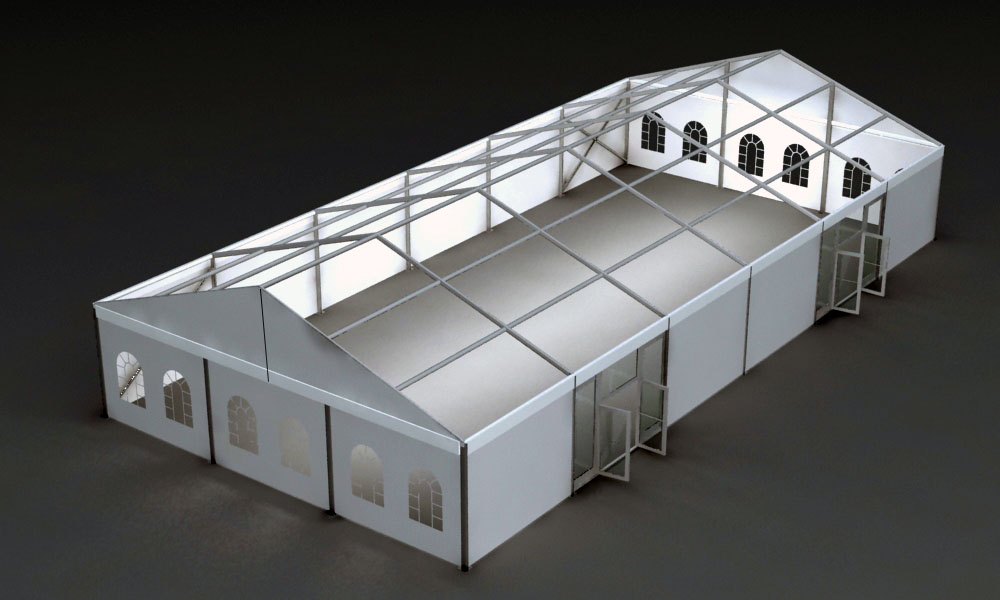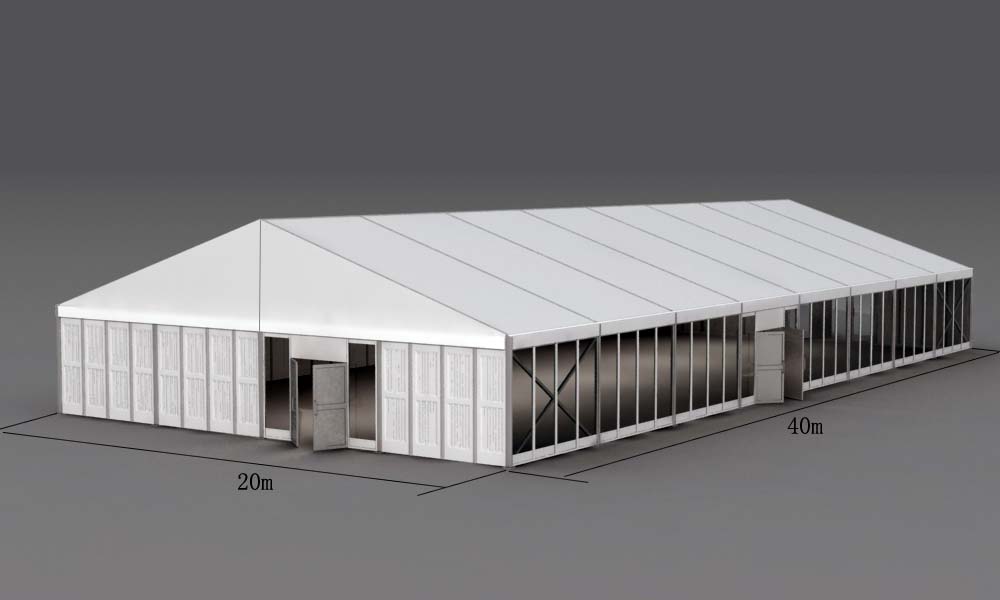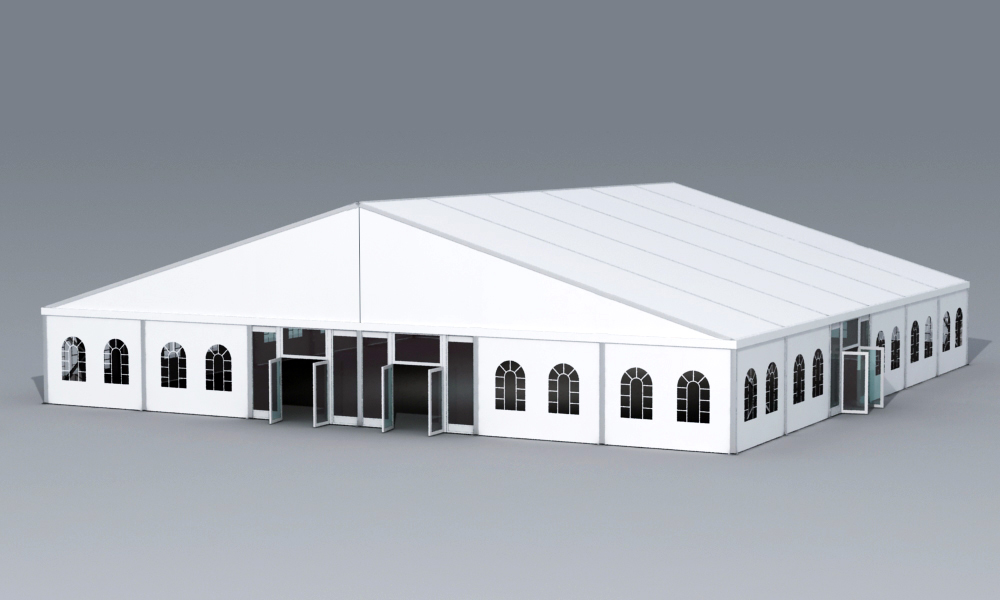 | | | | | | |
| --- | --- | --- | --- | --- | --- |
| Span Width | Eave Height | Ridge Height | Bay Distance | Longest Component | Wind Load |
| 3m | 2.7m | 3.23m | 3m | 3.00m | 80km/h |
| 4m | 2.7m | 3.41m | 3m | 3.00m | 80km/h |
| 5m | 2.7m | 3.59m | 3m | 3.05m | 80km/h |
| 6m | 2.7m | 3.78m | 3m | 3.17m | 80km/h |
| 8m | 2.7m | 4.2m | 3m | 4.35m | 80km/h |
| 10m | 2.7m | 4.53m | 3m | 5.36m | 80km/h |
| 12m | 2.7m | 4.87m | 3m | 6.35m | 80km/h |
| | | | | | |
| --- | --- | --- | --- | --- | --- |
| Span Width | Eave Height | Ridge Height | Bay Distance | Longest Component | Wind Load |
| 6m | 2.95m | 4.10m | 3m | 3.90m | 80km/h |
| 9m | 2.95m | 4.63m | 3m | 4.87m | 80km/h |
| 12m | 2.95m | 5.20m | 3m | 6.50m | 80km/h |
| 15m | 2.95m | 5.72m | 3m | 4.87m | 80km/h |
| | | | | | |
| --- | --- | --- | --- | --- | --- |
| Span Width | Eave Height | Ridge Height | Bay Distance | Longest Component | Wind Load |
| 10m | 3.95m | 5.60m | 5m | 5.60m | 100km/h |
| 11m | 3.95m | 5.75m | 5m | 6.00m | 100km/h |
| 15m | 3.95m | 6.40m | 5m | 8.10m | 100km/h |
| 16m | 3.95m | 6.55m | 5m | 8.60m | 100km/h |
| 20m | 3.95m | 7.30m | 5m | 10.70m | 100km/h |
| 25m | 3.95m | 7.96m | 5m | 10.70m | 100km/h |
| 30m | 4.00m | 8.95m | 5m | 10.70m | 100km/h |
| | | | | | |
| --- | --- | --- | --- | --- | --- |
| Span Width | Eave Height | Ridge Height | Bay Distance | Longest Component | Wind Load |
| 30m | 4.03m | 8.84m | 5m | 10.62m | 120km/h |
| 35m | 4.03m | 9.80m | 5m | 10.62m | 120km/h |
| 40m | 4.03m | 510.40m | 5m | 10.62m | 120km/h |
| 50m | 4.03m | 13.90m | 5m | 13.16m | 120km/h |