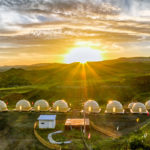 Glamping Retreat with 11 Elegant Glamping Domes
08/14/2023
Check this full
safari tent
installation in this detailed, step-by-step time-lapse video. The whole process is shown through sped-up footage, allowing you to see how a safari tent is put together from start to finish in a much shorter time. Key steps are highlighted as the poles, canvas and other parts come together to create the final tent. Whether you're installing for the first time and need visual help or are just interested in seeing behind the scenes, this video clearly shows the installation through an easy-to-follow time-lapse format. Get a better understanding of building a safari tent with this how-to video.
Video Segments:
00:00 Start
00:08 Before Installing
00:36 Base Positioning
00:53 Assembling Frames
02:23 Installing Inner Fabric
03:24 Installing Roof Fabric
Please note:
 the safari tent in the video is manufactured by Jumei Tent, the installation methods and steps of different manufacturers may be different.
See also: