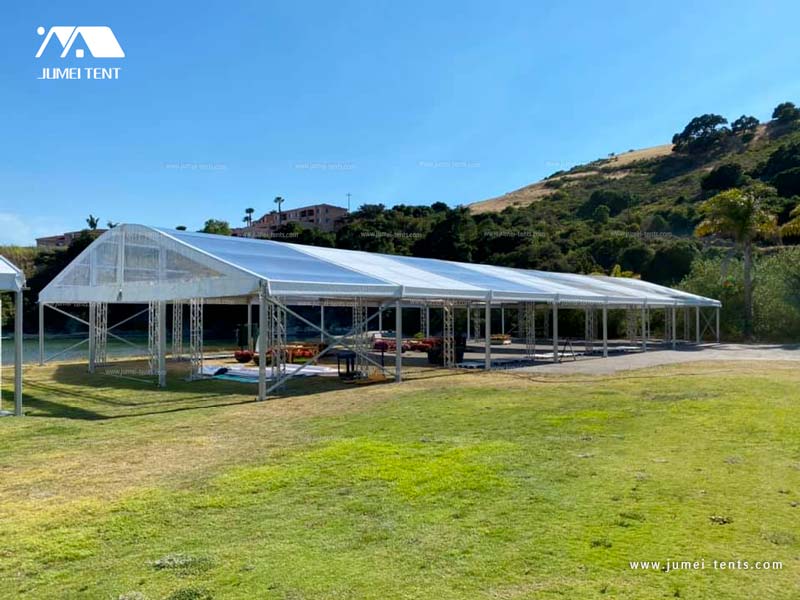 Large Clear Arcum Tent and White A-Shape Tent for Outdoor Events
06/18/2021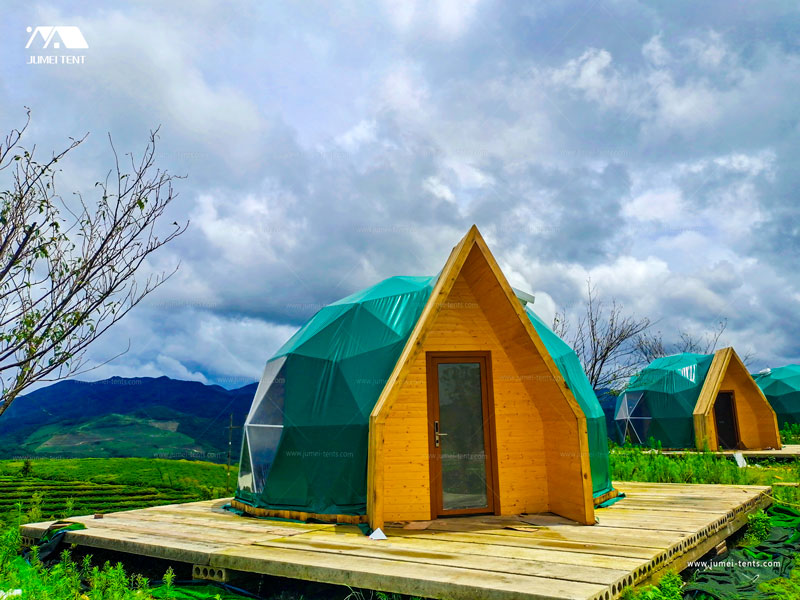 New design glamping dome tent with spire shape wood door
08/05/2021
There are many different types of glamping tents. The
most popular glamping tents
are safari tents, glamping dome tents, safari lodge tents, bell tents, and yurts. Compare to traditional tents, that glamping tents offer many shapes, styles, and options. Why is the glamping dome tent is the best glamping tent? We will discuss the aspects of price, tent structure, application, installing, and transporting below.
1. Reasonable price:
The price of a
glamping dome tent
is generally at a fraction of a traditional or
new glamping pod
, yurt, or
luxury safari lodge tents
with the same floor area. Among most glamping tents, perhaps bell tents and small
safari tents
are comparable in price to glamping dome tents, however, bell tents are not semi-permanent glamping tents, and safari tents are not as good as glamping dome tents in terms of solidity and applicability.
2. Sturdy and safe structure:
Sturdy structure: The glamping dome tent utilizes the solid geodesic dome structure patented by Buckminster Fuller. A geodesic dome is a hemispherical thin-shell structure based on a geodesic polyhedron. The triangular elements of the dome are structurally rigid and distribute the structural stress throughout the structure making geodesic domes able to withstand very heavy loads for their size.
Solid materials: The glamping dome tent is constructed by durable galvanized steel or aluminum alloy structs, and a waterproof, fireproof, tear-proof PVC cover.
The glamping dome tent has been unanimously recognized by the public and is widely used in various fields such as temporary or semi-permanent residences, hotels, resorts, and glamping accommodation.
3. Wide practicability and applicability:
In addition to the above features, glamping dome tents are generally equipped with construction platforms and floors, so they can be built on almost all kinds of ground, whether it is cement ground, grass, beach, soil, rocks, etc. It can be widely used in
various semi-permanent accommodation scenarios
like:
Glamping sites
Resorts and hotels
Small and medium camping spots
Airbnb hosting
Stargazing campsites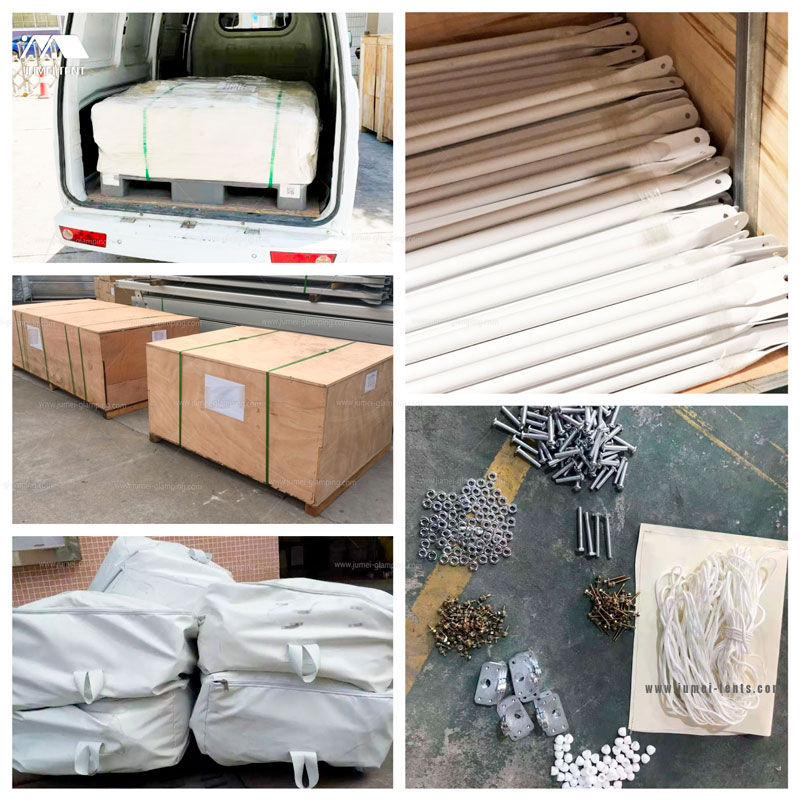 4. Lightweight, portable(with the vehicle), and movable:
Compare to a traditional glamping pod, for example, a 5mx2.4mx2.6m glamping pod weighs about 1600kg, a 6M glamping dome tent frame plus PVC cover weighs only about 450kg, it is more lightweight and easy to transport. You can carry it with an ordinary vehicle. It's easier to transport to remote places for installation for you.
5. Easy to install, dismantle and move:
A 6M glamping dome tent, with 2-4 persons, and some simple tools, can be installed in a few hours. Today, the technology and solution of glamping dome tent are very mature. There are detailed
installation guides and videos
, and ordinary people can install it by themselves only by using a simple ladder or scaffolding.
6. Very diverse customized options:
The color and pattern of the outer cover can be customized, in addition to white, beige, clear, green, yellow, brown, or customized according to your own needs.
Various accessories to choose from: floor, vent and exhaust fan, insulated lining, skylight, wooden door, glass door, and glass window, and so on.
Flexible space arrangement: The internal space of a glamping dome tent is a symmetrical circle without any poles. You can freely design the floor plan according to your needs to place the bathroom, bed, furniture, and appliances.
The featured panoramic windows of the glamping dome tent can be customized in various specifications.
7. More spacious:
Because the glamping dome is a geodesic dome shape and there is no pole in the center, compared with other types of glamping tents, it has the same floor area and provides a higher and larger indoor space.
Compared with the traditional glamping pod of the same area, the height of the glamping dome tent is about 3.5m, and the glamping pod is generally 2.6m.
There is no pole in the center of the glamping dome tent. In contrast, glamping tents such as bell tent have a post in the center.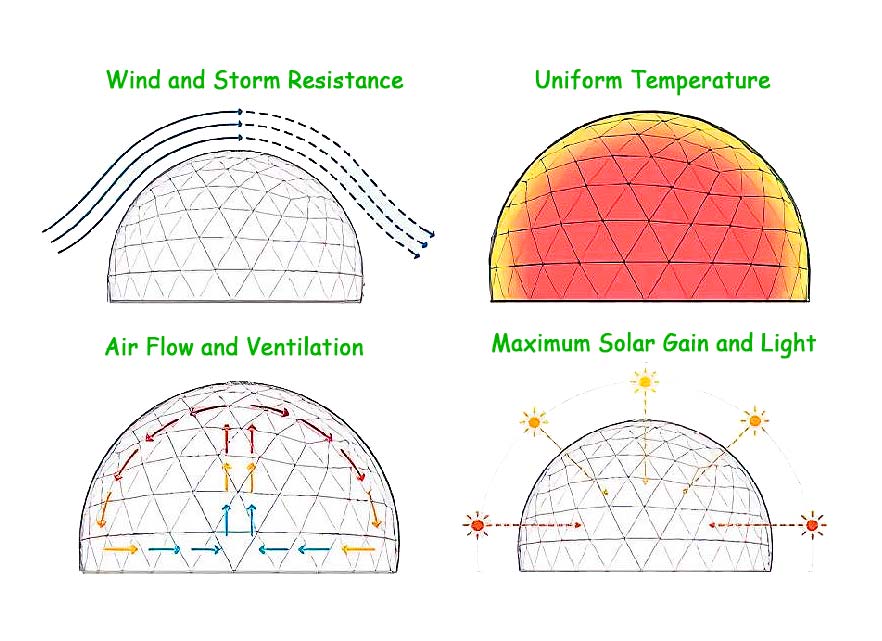 8. Can be highly efficient and energy-saving:
You can save 30% of energy in the glamping dome tent with its geodesic dome shape, solar exhaust fan, skylight, stove, chimney, and thermal insulation liner regardless of summer or winter. And it can provide energy-efficiently living space with comfortable temperature and effective use of natural light.
9. Weatherproof and four-season tent:
Because it's a sturdy structure, solid materials, glamping dome tent have a
good lifespan
and can be used all-weather and four seasons, and if properly constructed, it can live in it in various extreme weather, whether it is humid weather, windy weather, heavy rain or snowstorm.
10. Final thoughts:
Lastly, the whole meaning of glamping is to have a more glamorous, comfortable, and luxurious camping experience than ordinary camping. Therefore, glamping tents are better, more unique, and more luxurious, and can provide modern conveniences such as air conditioning, Wi-Fi, custom decks, hot water, flush toilets, and well-equipped beds.
Among so many glamping tents, Jumei believes that Glamping Dome Tent may be the best glamping tent in terms of price, sturdiness, easy installation, easy configuration, and adaptability to various terrains and climates.