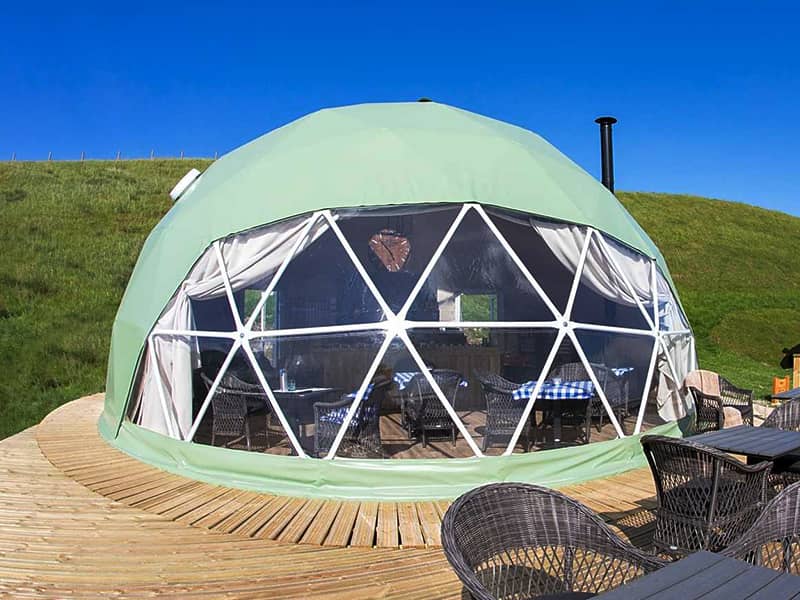 Glamping Dome Tent with Canvas Cover
09/21/2020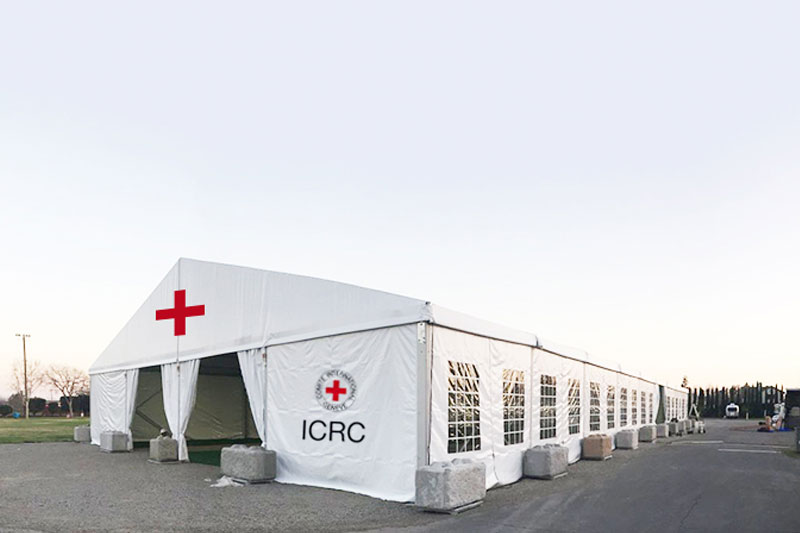 Clear span quarantine tent
11/12/2020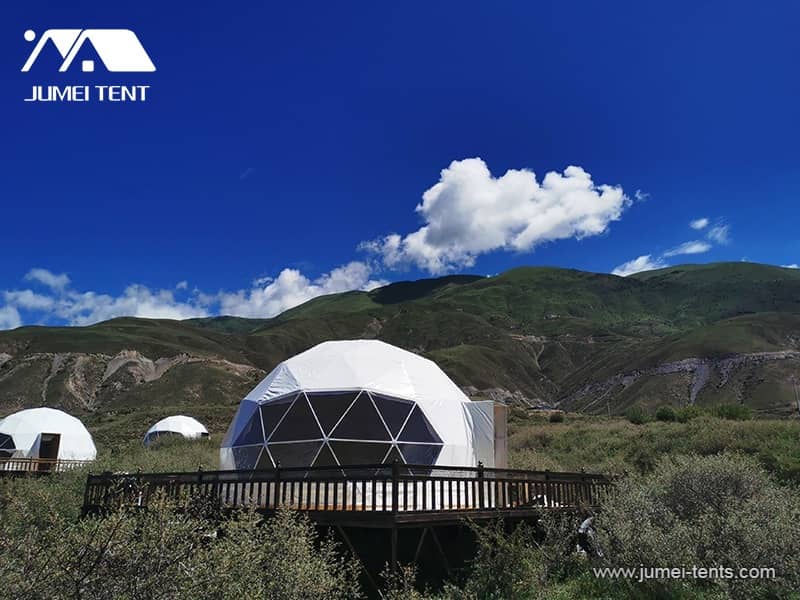 Stargazing in the glamping dome
This resort is located in Luoxi town, Sichuan, China. More and more tourists are attracted by this original ecologic tourism resort. We built 20 Stargaze glamping dome tents here and the customer can breathe fresh air, stargaze in the night, and have a comfortable living experience.
These are perfect glamping dome tent for stargazing at the night in the wild. Living in this fantasy glamping dome will make some impressive memories for you! The 1/3 clear cover offers panoramic views for stargazing. Inside, the geodesic domes are deceptively spacious and comfortable. They're the perfect way to satisfy your craving for the outdoors by escaping into a dream world.


Site area
Approx. 100 acres

Foundation
Wooden platform


Climate
Continental plateau climate


Recreations & Facilities
Barbecue, Horse Riding
Features & Specifications
Product
6M Glamping Dome Tent
Size & Weight
Diameter
6M(19.6ft)
Floor Area
28.3㎡(304.6ft2)
Ceiling Center Height
3m(9.8ft)
Approx. Dome Weight
500kg (Frame + PVC Cover)
Workers Required
3-4 persons
Assembly Time
2-4 hours
Suggest Interior Arrangement
Single Room
Double room
Family Suite
Queen size bed(1.5m)
King Size bed(1.8m)
4 single bed
Bathroom
Bathroom
Living room area
Living room area
Living room area
Interior design and configuration of our glamping dome tent
Frame material

Steel Q235 (hot-dip galvanized) or Hard pressed aluminum alloy T6061/T6

Fabric cover

High quality double PVC-coated polyester textile; 100% waterproof; flame retardant to DIN4102 B1, M2, CFMUV resistant, tear-resistant, self-cleaning ability, etc.

Roof cover

850g/sqm white PVC Fabric

Sidewall cover

650g/sqm white PVC Fabric

Fabric color option

White, yellow, transparent and customized

Connector

Strong hot-dip galvanized steel.

Allowed temperature condition

-30 degree Celsius +70 degree Celsius

Wind load

100-120km/h or customized

Snow load

75kg/sqm (snow can't stay if use big degree roof pitch design)

Other features

Easy to assemble and disassemble




No pole inside, 100% available interior space
Skylight
Exhaust Fan
Vent Hole
Lining and curtain
Glass Door Units
Glass Window
Transparent PVC Cover
Flooring system
Air Conditioner
Weight plate
More accessories are available, please feel free to contact us if you need more information.v
Request for Quote
Please feel free to contact us if you are interested in this product.