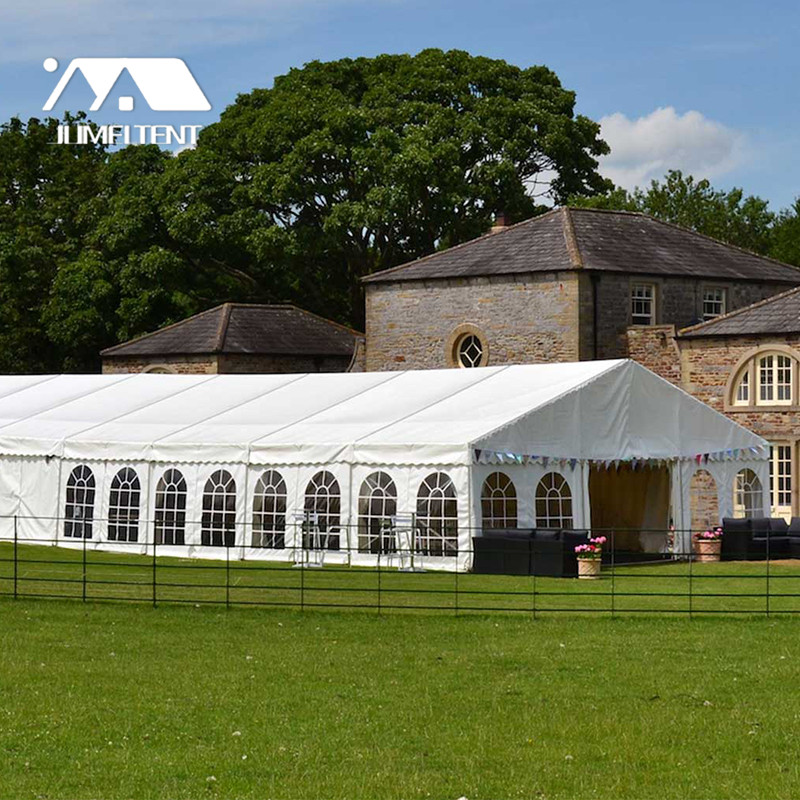 JUMEI Brand Trade Show Tent For Commercial Event
04/24/2020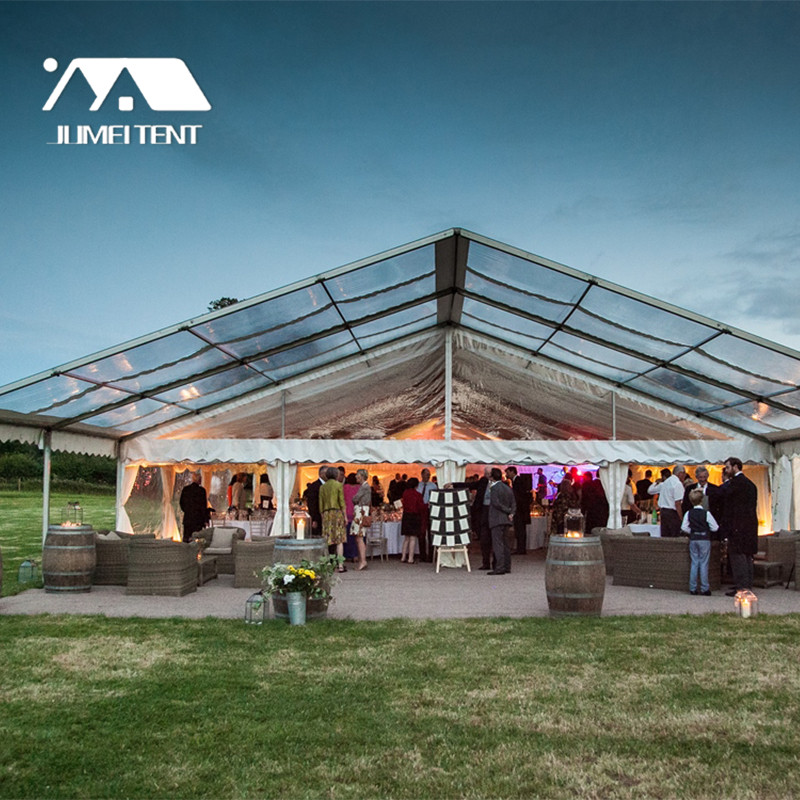 Jumei Large Wedding Tents For 200 People
04/24/2020
Jumei provide outdoor luxurious wedding tents of various sizes, with spans width ranging from 3m to 30m, and the height and length can be customized according to your needs.
Our wedding tents are classified into two categories according to their size: Large wedding tents and Small wedding tents(including the mini wedding tents).
Large wedding tents: Span width is from 8m to 30m, bay distance is 5m. Small wedding tents: Span width is from 3m to 12m, bay distance is 3m.
Features & Specifications
| | | | |
| --- | --- | --- | --- |
| Span width | Eave height | Ridge height | Bay distance |
| 10m | 3.95m | 5.60m | 5m |
| 11m | 3.95m | 5.75m | 5m |
| 15m | 3.95m | 6.4m | 5m |
| 20m | 3.95m | 7.3m | 5m |
| 25m | 3.95m | 7.96m | 5m |
| 30m | 4.00m | 8.95m | 5m |
Frame material

Hard pressed aluminum alloy T6061/T6

Fabric cover

High quality double PVC-coated polyester textile; 100% waterproof; flame retardant to DIN4102 B1, M2, CFM; UV resistant, tear-resistant, self-cleaning ability, etc.

Roof cover

850g/sqm white PVC Fabric

Sidewall cover

650g/sqm white PVC Fabric

Fabric color option

White, yellow, transparent and customized

Connector

Strong hot-dip galvanized steel.

Allowed temperature condition

-30 degree Celsius +70 degree Celsius

Wind load

100km/h or customized.

Snow load

75kg/sqm (snow can't stay if use big degree roof pitch design)

Other features

Easy to assemble and disassemble

No pole inside, 100% available interior space
PVC window sidewalls
Anchoring
Rain Gutter
Lining and curtain
Glass door units
Hard walling system
Glass walling system
Transparent PVC cover and sidewall
Flooring system
Weight plate
More accessories are available, please feel free to contact us if you need more information.v
Request for Quote
Please feel free to contact us if you are interested in this product.