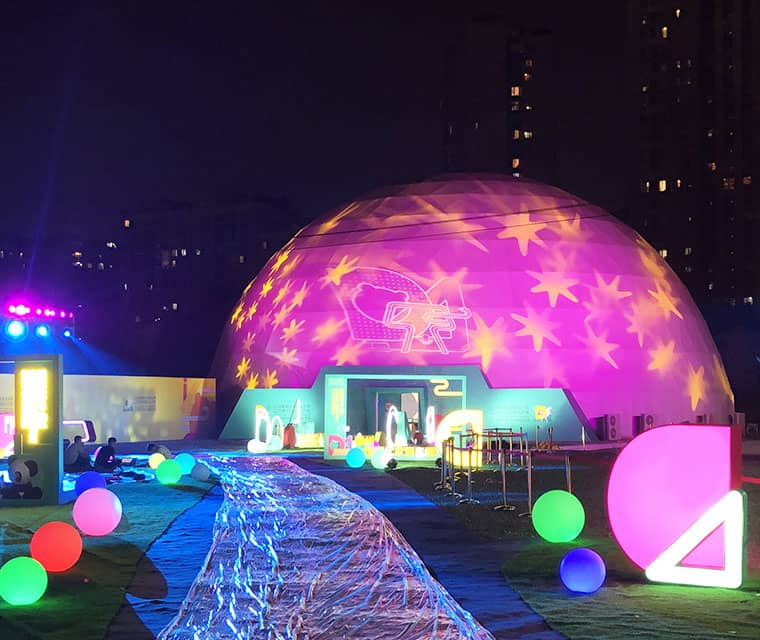 Large 360° Projection Dome Tent for Opening Ceremony
09/14/2020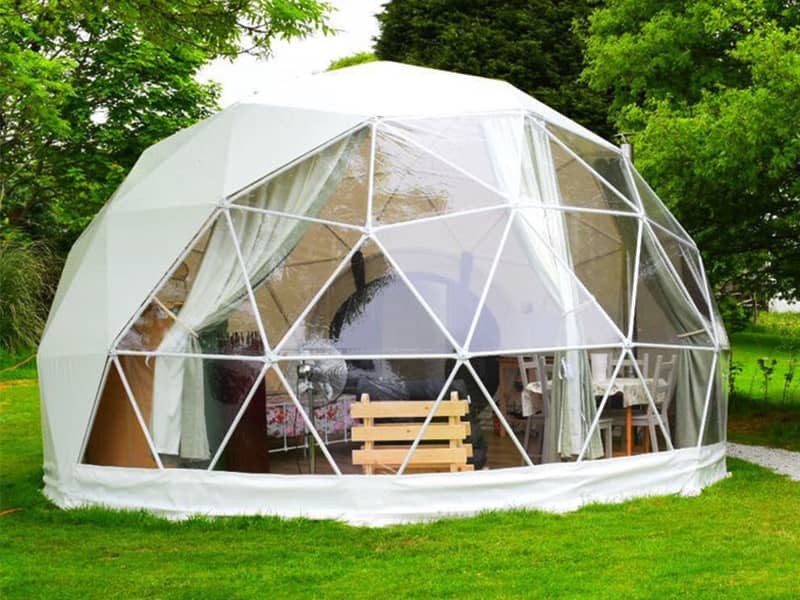 Luxury Glamping Dome Tent with Glass Window
09/21/2020
The glamping dome tent is a kind of geodesic dome tent that enables full of modern configurations and accessories for glamping comfortable and cozy!
This glamping dome tent is 6 meters in diameter equipped with a large bay window in front with private views of the stunning scenery. The life span of the framework is more than 15 years, roof cover is made of flame retardant, UV resistant, mold-proof double sides thickened acrylic surface PVC fabric, it can be used at least 5-8 years.
The color of fabric can be white, yellow, green and so on. We provide customized design and various accessories for glamping dome tents, including doors, flooring system, inside heat insualition cotton, air conditioner, windows, bathroom accessories, home appliances, and ventilation systems. Glamping dome tent has become more and more popular for building a unique glamping resort.
Features & Specifications
Determine the size of your dome tent with the suggested room occupancy
Diameter
(m/feet)
Ceiling Height
(m)
Frame Pipe Size
(mm)
Floor Area
(㎡)
Room Occupancy
(persons)
4m
13ft
2.5
Φ26*1.6
12.57
1-2
5m
16ft
3
Φ26*1.6
19.60
1-2
6m
20ft
3.5
Φ26*1.6
28.26
1-2
7m
23ft
3.7
Φ26*1.6
38.48
1-4
8m
26ft
4
Φ26*1.6
50.24
2-4
10m
32ft
5
Φ32*1.8
78.5
2-6
Frame material

Hard pressed aluminum alloy T6061/T6

Fabric cover

High quality double PVC-coated polyester textile; 100% waterproof; flame retardant to DIN4102 B1, M2, CFM; UV resistant, tear-resistant, self-cleaning ability, etc.

Roof cover

850g/sqm white PVC Fabric

Sidewall cover

650g/sqm white PVC Fabric

Fabric color option

White, yellow, transparent and customized

Connector

Strong hot-dip galvanized steel.

Allowed temperature condition

-30 degree Celsius +70 degree Celsius

Wind load

100km/h or customized.

Snow load

75kg/sqm (snow can't stay if use big degree roof pitch design)

Other features

Easy to assemble and disassemble

No pole inside, 100% available interior space
Anchoring
Rain Gutter
Lining and curtain
Glass door units
Transparent PVC cover and sidewall
Flooring system
Weight plate
More accessories are available, please feel free to contact us if you need more information.v
Request for Quote
Please feel free to contact us if you are interested in this product.